If you are a famous youtuber and want to monetise your youtube channel, then this article is for you!. In this article I will show you step by step process to setup monetization on your youtube channel. So let's get started.
First of all, to monetize your channel, you have to meet two minimum requirements:
Get 1000 Subscribers.
Get 4000 watch hours.
4000 watch hours are calculated within a duration of a year. You have to complete at least 4000 hours of your youtube video views. This will easily achieved if you have more than 1000 subscribers. So you have to work hard on getting subscribers. The best practice to get subscriber is to promote your channel through social media channels like Facebook, Instagram, twitter etc.
After completing these two requirements, you are ready for monitization.
Step 1:
Login to your youtube account and goto youtube studio.
Click on monetisation menu in sidebar.
I'm taking an example of a news channel "The Ink News" for the demonstration purpose.
As you can see the channel has completed both the minimum requirements.
Now click on the Apply Now button below the requirements.
Step 2:
After clicking on Apply now button you will see steps of channel monetisation.
Step 1 is Review Partner Programme terms. In this step you have to accept the terms and conditions of Youtube channel monetisation.
Click the checkbox and accept terms and condition.
After completing step 1 you will see step 2 is active. Step 2 is for Google AdSense. Google AdSense is required to setup payment method for your account. It mean google wants to know how you want to get paid. Your billing name, address, bank details etc. Now click on start button.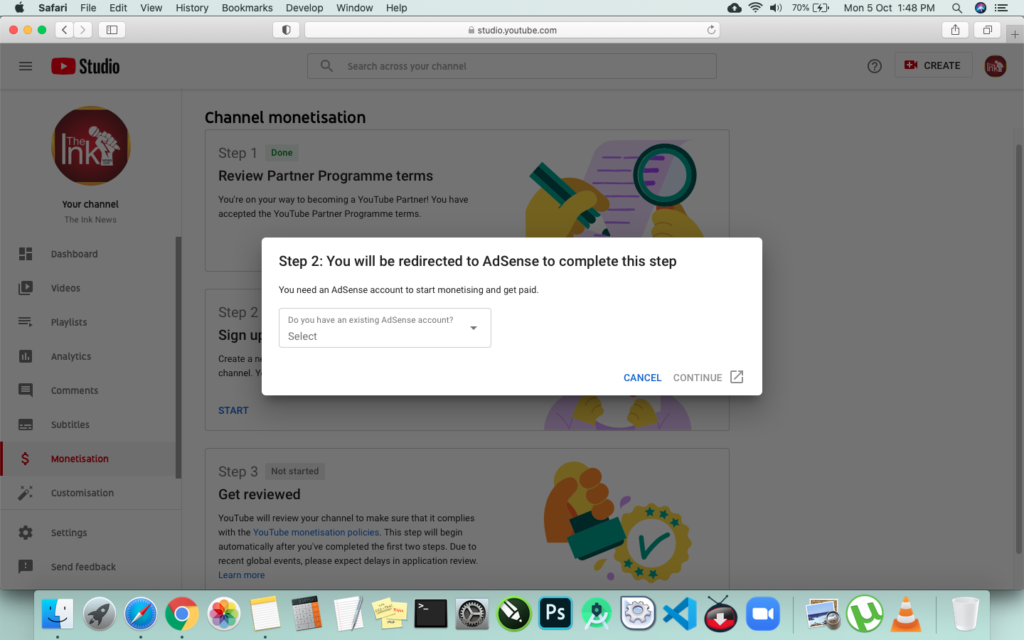 Now you have two option here. First if you already have an AdSense account, you can use it. Otherwise you can create a new adsense account.
Now click on continue, it will take you to the Adsense website for new signup.
Here the website url is prefilled for your account and you have to fill other options. Choose your email preferences (whether you want to receive mails from adsense or not).
Select your country and accept the terms and conditions of adsense.
Now click on Create Account button.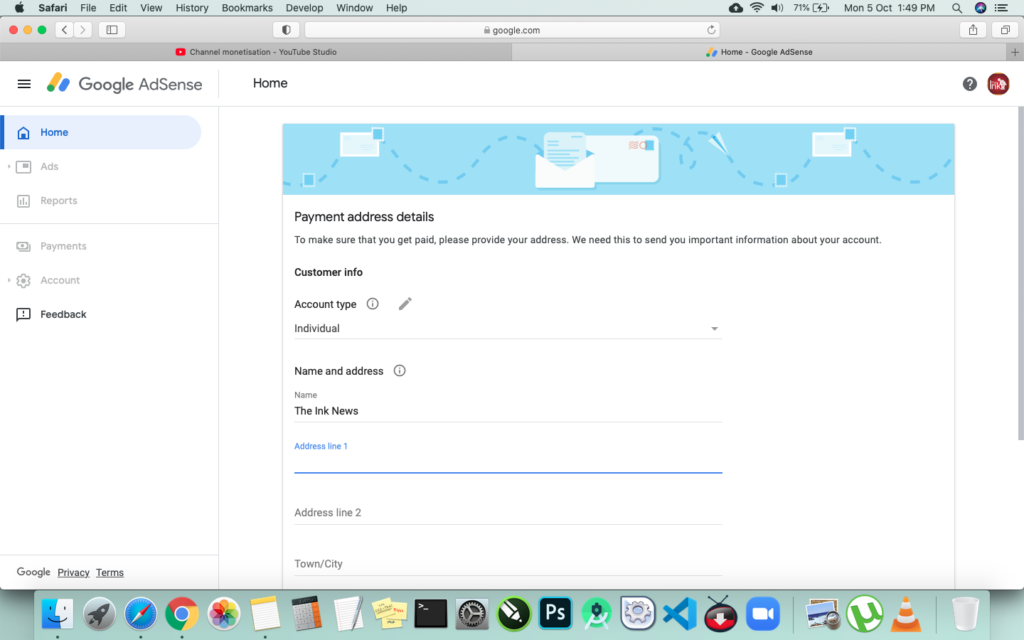 After creating account you will be redirected to Google Adsense Dashboard. Here you have to fill your billing details. Enter your name, Postal Address, Country and pincode. Be careful on filling this form, this address is used to physically verify your location so fill the exact information, so that the letter of google adsense reach you on time and correctly. If it fails to reach your location, you won't be able to get paid.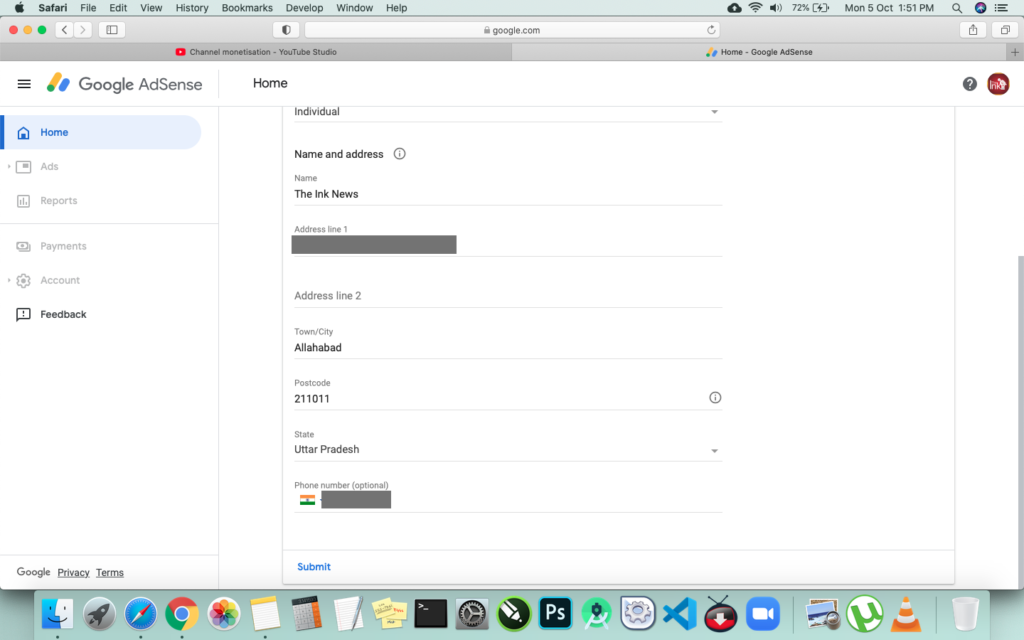 After filling all the details click on Submit button.
Now you will be redirected to your youtube channel. Here you can see your step 2 is now in progress. It will take some time to setup and verify your account.
After successful adsense setup youtube will review your channel content, if the content of your channel meets the policy of youtube, you will get your channel monetised.
Congratulations!!!! you have successfully completed all the steps required to monetize your channel, now sit back and relax, in a short while you will see dollars crediting in your account!
Thanks for reading.
If you liked this article please like, share & subscribe our social media profile and youtube channel to get updated with latest technology updates.